Free staging - for MONDAY January 20th only – has been arranged for BOAT DEALERS ONLY at the BJCC Marshalling Yard - 1301 F.L. Shuttlesworth Drive Birmingham, AL 35234. Due to the Holiday, do not drop off any boats, trailers, etc. prior to 10:00am on Monday January 20th. Any items left on lot prior to 10:00am Monday January 20th will be removed at owner's expense. Please reference the attached map for directions to the Marshalling Yard. Remember this is free only on MONDAY Only. After Monday, if you wish, you may store your empty trailers at your own risk on the Marshalling Yard Lot. However, there will be a $20.00 fee per trailer, for the duration of the show. Please act accordingly and secure your property. All trailer parking arrangements and funds are to be arranged and paid for 2 weeks in advance of the show. Any trailers that have not been paid for and cleared in advance will be towed and impounded. Staging space is extremely limited.
This lot is located 2 blocks North of the BJCC.
The lot is fenced and well lit.
BJCC will provide a security guard who is scheduled around the load-in and load-out of each event.

Storage will start Tuesday, January 21st on the Marshalling Yard Lot and cost is $20 per trailer. If paying by check please make checks payable to the BJCC. (See mailing address below)

Birmingham Jefferson Convention Complex
Attention: Toya Garrison, Parking Coordinator
2100 Richard Arrington Jr Blvd North
Birmingham, AL 35203

Please contact: Toya Garrison - Parking Coordinator – Birmingham Jefferson Convention Complex
Direct 205-458-8446
Mobile 205-873-8149
www.BJCC.org

Do Not Call the Boat Show Office.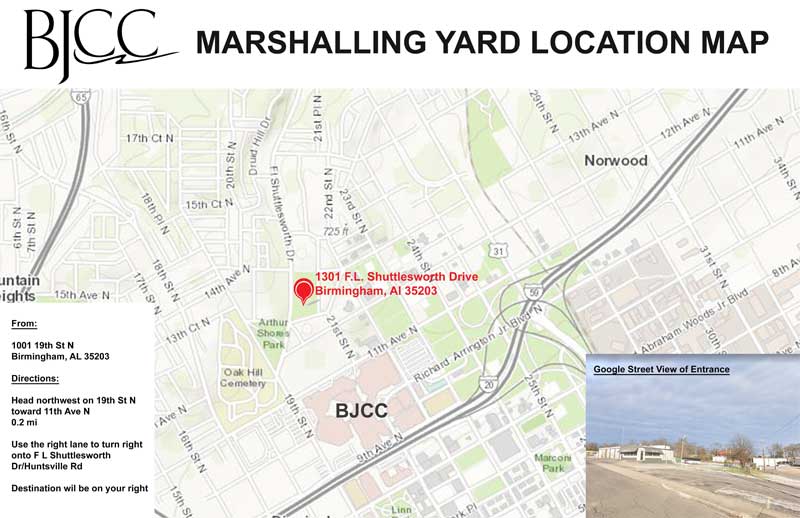 Click Here for Printable Marshalling Yard Location Map (pdf format)